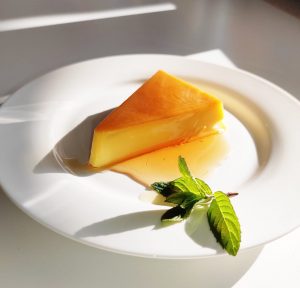 Rozata is a traditional medieval dessert that is widespread around the Adriatic Sea and comes from the city of Dubrovnik. It is simple and delicious! It's main ingredients are milk, eggs and sugar, while the unique flavor comes from the sweet rose liqueur called rozulin, to which this dessert owes it's name. It is slowly baked in a bain-marie (water bath) wrapped in the caramel.
Although it has some similarities with other European desserts such as Italian creme caramel, French creme brulee and Spanish flan, rozata is unique because of it's rose flavor.
The recipe for rozata dates back to the 14th century and it was preserved for the centuries due to the simplicity of the ingredients. This traditional Dubrovnik dessert was proposed for inclusion in the UNESCO list of protected intangible heritage, so every visitor in Croatia must taste this "sweet piece of history"!
Bon appetite!